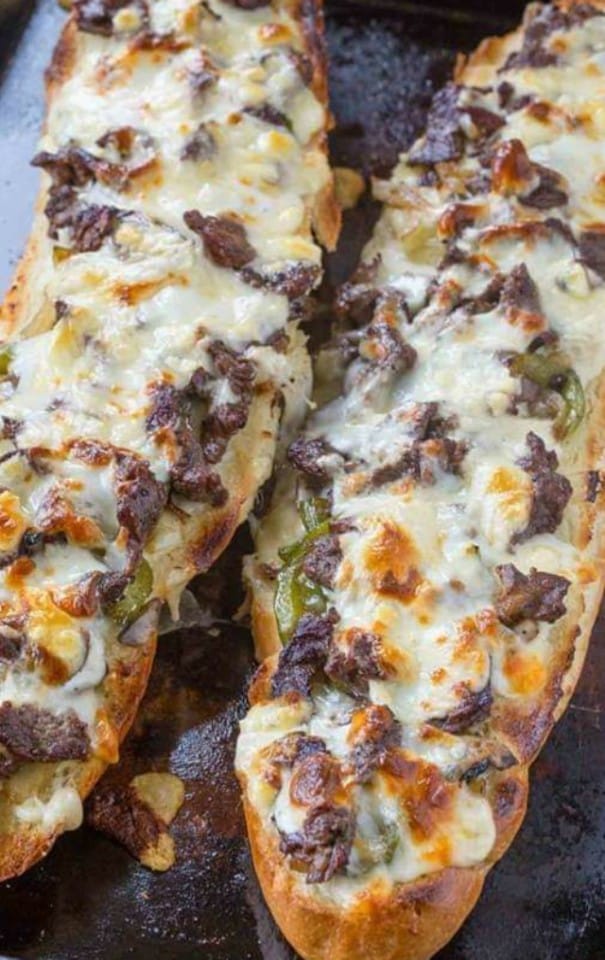 Philly Cheese Steak Cheesy Bread with just a few ingredients is the taste of Philly for a crowd!
Philly Cheese Steak Cheesy Bread sounds like a hard recipe but it's actually ready to go in the oven in less than 20 minutes and is a perfect recipe for a crowd.
Hey everyone it's Sabrina again from Dinner, then Dessert and this month I'm bringing one of my favorite flavors to Alyssa's blog… Philly Cheese Steaks!
One of the most popular recipes on my blog is for a Philly Cheese Steak Grilled Cheese, and there are at least four different recipes on the blog for cheese steaks, but this one is my favorite version for a crowd.
In addition to being an easy and quick dish you can serve a large number of people. In addition that you don't even need a large amount of ingredients so this dish is actually also inexpensive to make.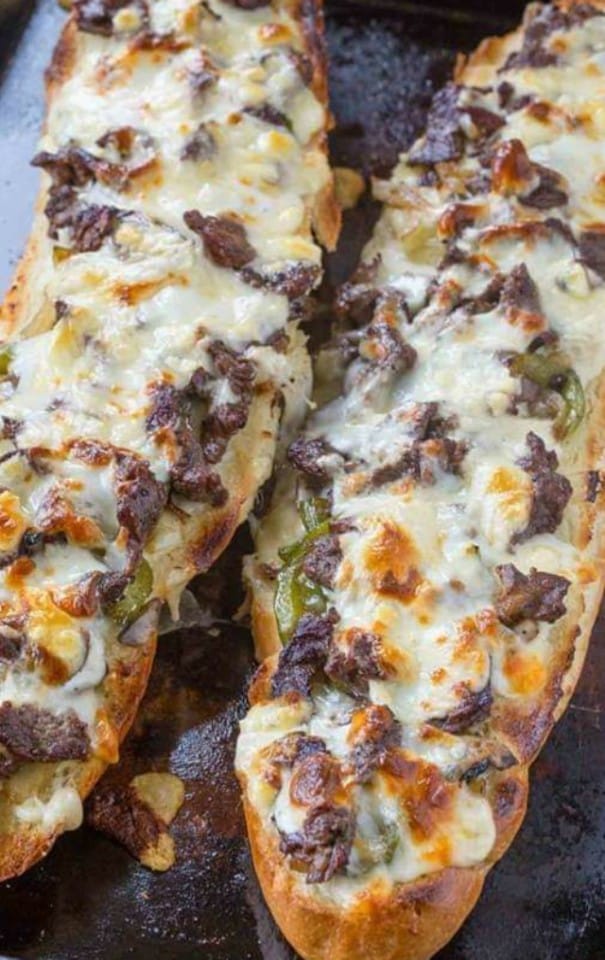 PHILLY CHEESESTEAK CHEESY BREAD
Philly Cheesesteak Cheesy Bread is cheesy and crunchy and full
of delicious cheese steak flavors including ribeye steak, green bell peppers, onions and mushrooms.
INGREDIENTS
8 ounces Ribeye Steak thinly sliced
1/2 teaspoon Kosher salt divided
1/4 coarse ground black pepper divided
1 tablespoon canola oil
1 tablespoon Worcestershire sauce
2 tablespoons butter
1 green bell pepper sliced
1 yellow onion sliced
4 ounces mushrooms sliced
1 loaf French bread cut in half lengthwise
1/3 cup mayonnaise
8 ounces Provolone cheese sliced
INSTRUCTIONS
Preheat the oven to 375 degrees. Season the steak with half of the salt and pepper and all the canola oil. Heat a cast iron skillet on high heat and cook the steak for 2 minutes without stirring or flipping. Add the Worcestershire sauce and stir.
Remove from the pan and add in the butter, green bell peppers, onions, mushrooms and the rest of the salt and pepper. Cook for 3-4 minutes or until slightly browned.
Spread mayonnaise over both halves of the bread.
Cover with half of the provolone cheese, then add the steak and vegetables along with the rest of the cheese on top.
Cook for 15 minutes on the middle rack until browned.
Sometimes I feel like I live in the 50's and constantly need to explain why I have chosen to not be married and instead live my life as an independent woman. Yes, that's right. I have chosen to be an unmarried mother. I don't look down on women who are married or even those who are engaged, so I don't know why I am looked at like a three legged monster when people find out I am not married to Matt.
When I was looking for a match as a surrogate I was asked when the wedding date was. How about never? Seriously though, I don't know if I will ever get married again, but you know what? That is my decision to make and should not effect how people view me. It doesn't make me any less of a person because I do not have a little signed piece of paper claiming that I am bound to another individual, just as it does not make those who are married any less of a person because they do have that little piece of paper.
I was married once. Do you know what it feels like to wake up one morning only to discover that the person who was supposed to take care of you had snorted your life savings up his nose and you were losing your house? I do. I vowed from that point forward that I would depend only on myself and that is what I have done. With some help from my mom who let me stay with her for a few months, I have managed to get my own home, cars and an income that provides for my family. I am happy with my life the way it is and see no reason to change it.
Matt and I have been together for over six years now. We do not celebrate our anniversary, we are good friends and we rarely ever fight about much of anything. We are happy with the way our relationship is. If it were up to Matt, we would be married tomorrow, but he is willing to wait it out or be with me as we are and I see no reason to change things. My kids don't experience anything any different now than they would if we were married, so I see no reason to do it for them either.
What are your thoughts? Does it make you a freak of nature if you choose to be an independent woman?