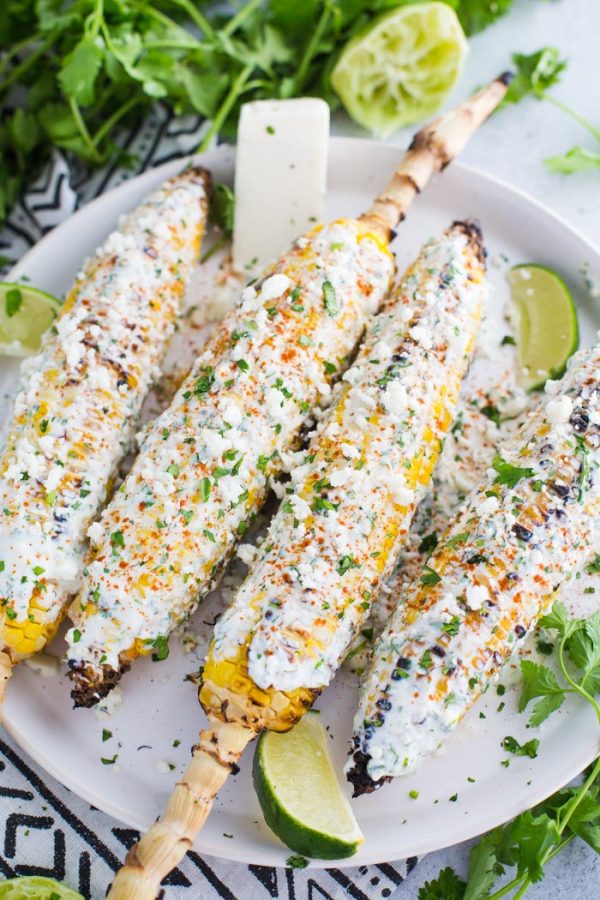 This month just so happens to be Hispanic Heritage Month and I'm excited to be sharing some of my FAVORITE Hispanic recipes with you here on the blog! First up: THIS amazingly easy and so incredibly delicious Easy Mexican Street Corn. It's seriously insane how mind blowing this corn is and I kind of want to eat it every single day.
How to Make Easy Mexican Street Corn
When making this Easy Mexican Street Corn, you can cook the corn however you like. For me, it HAS to be grilled. I'm a big fan of cooking the corn directly on the grill, husked removed, to ensure that I get those nice darned corn kernels AND to give it that undeniable smokey grilled flavor. You could, however, also leave the husks on.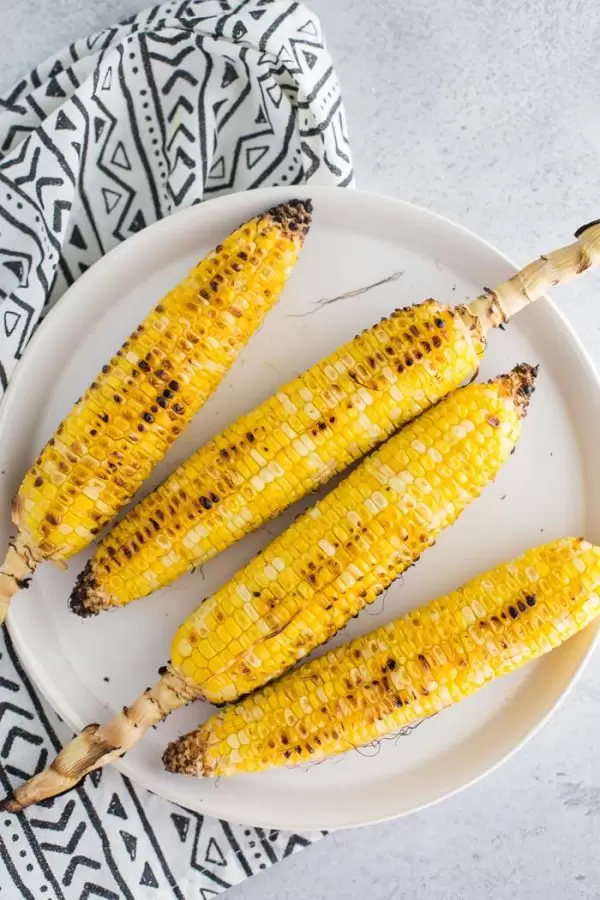 While the corn is grilling, we make the sauce that will go on top. Simple mix together the Cacique® Crema Mexican Agria Sour Cream, mayonnaise, cotija cheese, garlic, lime zest and juice, and cilantro.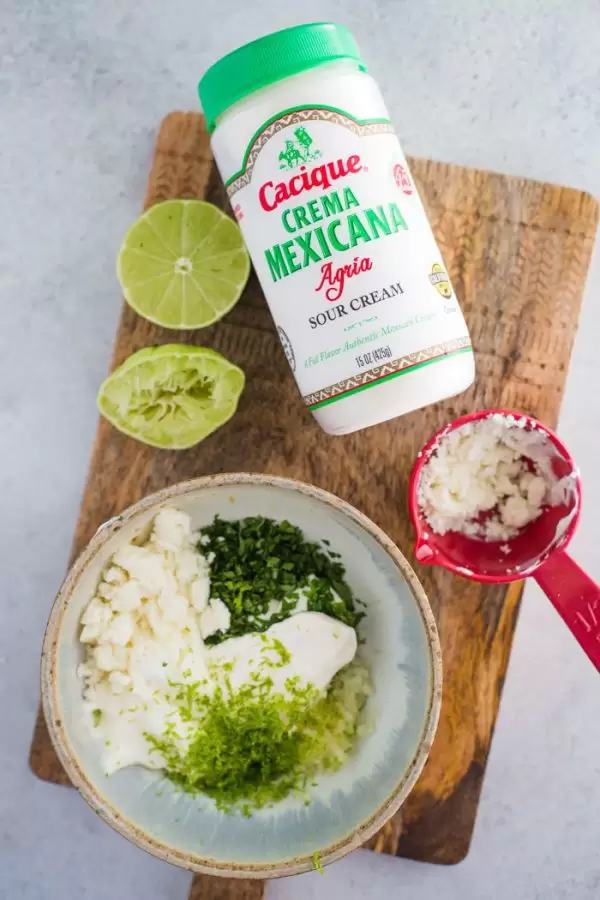 Once your corn is cooked and the sauce is ready, all that's left to do is generously rub the sauce over top of each corn on the cob and then sprinkle on a bit of chipotle chili powder. I also garnish mine with a little extra Cotija and cilantro.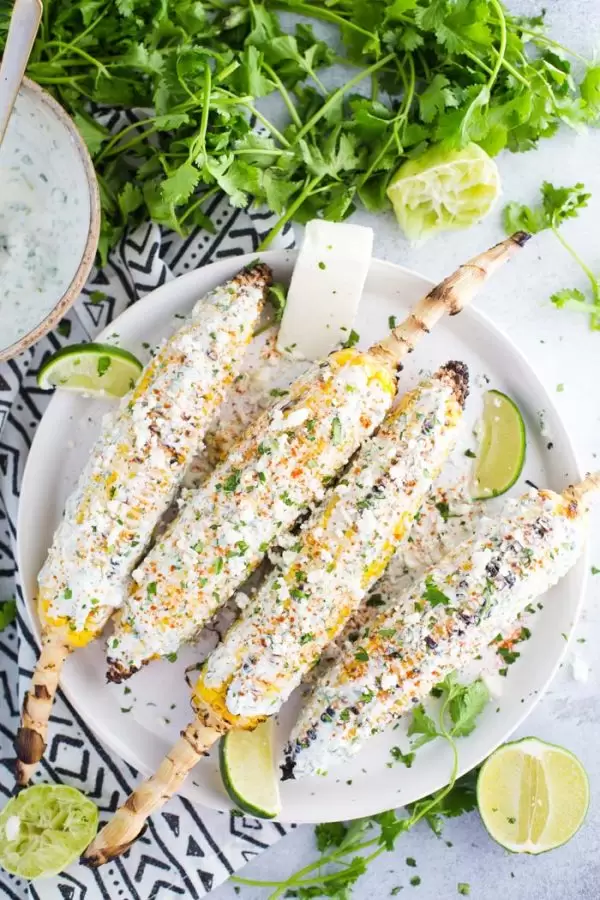 And that's it! Isn't it SO EASY!? I'm definitely adding this dish to our regular rotation for easy dinners.
Have you ever made Mexican Street Corn at home before?? If not then you're missing out and should add this to your must try list ASAP!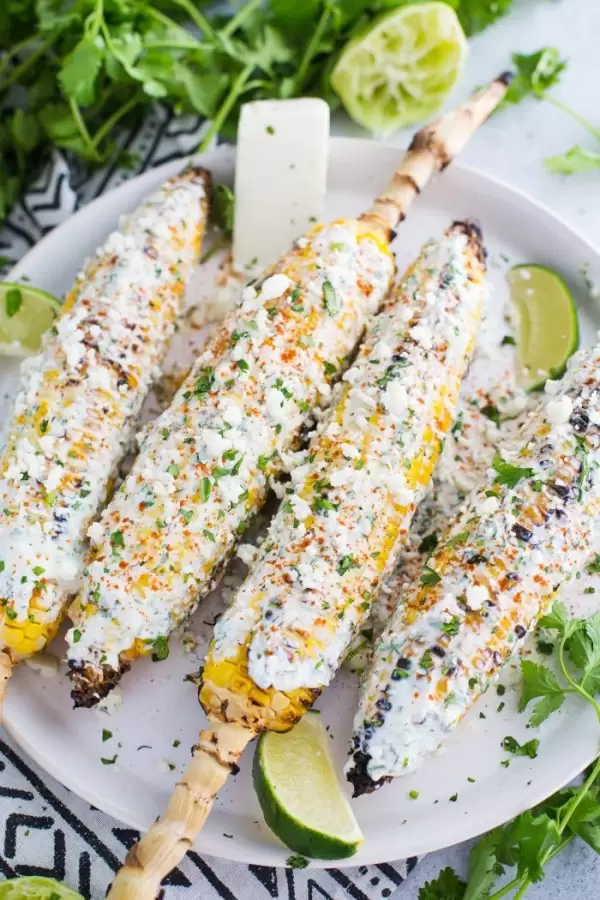 ingredients
4

ears of corn

¼ cup

of Cacique® Crema Mexican Agria Sour Cream (regular sour cream will work as well)

¼ cup

of mayonnaise

½ cup

of Cacique® Cotija cheese, crumbled

2

cloves of garlic, crushed (or finely minced)

¼ teaspoon

of fine sea salt
Juice and zest of 1 lime

1/4 cup

of Cilantro, finely chopped

½ teaspoon

of chipotle chili powder
---
instructions
Heat your grill to roughly 400 degrees F.
You can grill the corn with the husks on or off. I took the husks off to ensure that I got some nice grill marks on the corn and because I feel like it gives it a nice grilled flavor. FOR HUSKS ON: let your corn soak in water for 10 minutes before grilling. FOR HUSKS OFF: lightly spray spray each cob with cooking spray.**
Place the corn on the grill and grill for roughly 12 minutes, turning the cobs 1/4 turn every 3 minutes.
Mix the topping sauce by stirring together the Cacique® Crema Mexican Agria Sour Cream, mayonnaise, cotija cheese, garlic, lime zest and juice, and cilantro.
Generously top each corn cob with the cheese mixture, sprinkle with a bit of chipotle chili powder, and top with a bit of extra cotija cheese and cilantro.
ENJOY!
The boys and I took off to the theater the other day to see the newest movie from Illumination Entertainment and Universal Pictures, The Secret Life of Pets. It was a great comedy for all-audiences, and I loved the mix of rebellious "flushed pets" versus the sweet pets. The fact that we too have a dog named "Max" really helped the boys relate to the movie as well. When the boys got home, they were just craving more of the lovable characters.

Luckily, they didn't have to wait long for some movie-related fun at home. General Mills has teamed up with The Secret Life of Pets to bring six of the dynamic characters from the movie into your homes. General Mills Big G Cereals (Honey Nut Cheerios, Cheerios Multi Grain, Lucky Charms, Trix and Cocoa Puffs) feature free character collectibles, including: Max the pampered terrier mix, Duke the massive mutt, Snowball the leader of the flushed pets, Buddy the sarcastic dachshund, Gidget the naïve, but gutsy Pomeranian and Chloe the fat cat.


My two youngest boys tried their hand at creating a cardboard dog house and reenacting scenes from the film complete with the help of some of our furry family. With five dogs and a cat, we often wonder what goes on behind closed doors when we leave the house. We have a range of different personalities in our house. Little Bit is more of a Gidget, prim and proper on the outside, but feisty and a real leader when she needs to be, since she is the smallest in the house. 


Our Max is a happy go lucky dog who is absolutely devoted to his humans like the Max in the movie. Our cat Izzy is not as large as Chloe in the movie, but she too is grey and will easily dig into any food on the counters in the kitchen when left within her reach. Our pets are definitely on the mischievous side when we leave the house, with shoes, toys and occasionally couch pillows the victims of their play at times. 


Check out this adorable video of some real-life pets walking the green-grass carpet! Love that there is a dog that looks a lot like our Labradoodle in there too.



Want to have some fun with collectible characters from the movie yourself? You can pick up supplies like paint and cardboard houses at your local craft store, and collect all six characters in specially marked General Mills cereal boxes until the end of July while supplies last. They come with hangers attached making them the perfect addition to backpacks for the upcoming back-to-school season! 
Have you seen The Secret Life of Pets? What pets are your furry friends most like?
Disclaimer: Compensation was provided by 

General

 

Mills

 via MomTrends. The opinions expressed herein are those of the author and are not indicative of the opinions of 

General

 

Mills

 or Momtrends.