Texas Roadhouse Rolls – sweet, fluffy and buttery copycat Texas Rolls generously slathered with homemade melted honey cinnamon butter. All you need is just one bite and you'll be in bread heaven!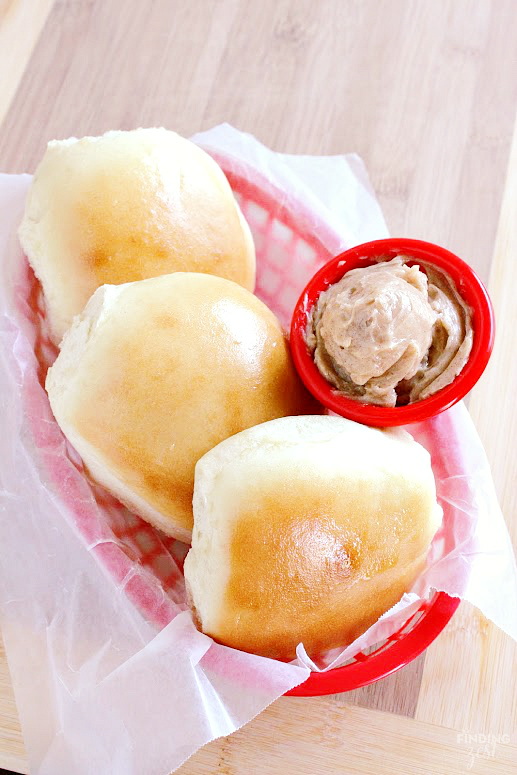 If you've been following me for a while, you know how I much I love bread! Honestly, I'd take any form of bread over chocolate. When I eat out, I always devour the bread first until I remind myself to stop and that I'm paying for the main course.
With that addiction, I know I have to master the art of baking homemade bread. That warm fresh from the oven smell is simply therapeutic for me. I even do a lot of baking even during summer. I live and breathe for all of the warm fresh bread.
Perhaps, it was all due to the fact that our family way back then would simply enjoy bread for breakfast, snacks or even for dinner. There's probably a fair amount of yeast mixed in my blood now.
These Texas Roadhouse Rolls are a copycat version from a restaurant. You'd love how fluffy, buttery, tender they are; brushed with warm, melted butter with a hint of sweetness.
HOW TO MAKE:                         
So, I was able to sneak a peek at the Walmart Black Friday Ad this morning and there are some awesome deals in there. We usually always hit up Walmart first and price match deals from other stores while also taking advantage of the Walmart deals, to avoid the amount of time we spend hoping from store to store.

Magnavox Blue Ray Player $69 plus a $10 VOD credit to Vudu
eMachines 15.6″ laptop for $198
8GB iPod Touch $225 with $50 Walmart GC
Emerson 32″ class LCD HDTV 720p 60Hz $198
Emerson 42″ class LCD HDTV 1080p 60Hz $398
LG 42″ class LCD HDTV 1080p 60Hz $478
Sanyo 50″ class Plasma HDTV 720p 600Hz $498
TV stand with removable mount $79
Sansui 19″ class LCD HDTV 720p 60Hz $98
Monster 5″ HDMI cable $10
Sanus Large Tilting Mount $69
LG Blue Ray Disc Player + $10 Vudu credit $94
Samsung 52″ class LCD HDTV $998
Samsung 46″ class 120Hz LCD HDTV $798
Samsung 40″ class LCD HDTV $498
Samsung 32″ class LCD HDTV $328
Samsung 46″ class LED HDTV $898
Samsung DualView PL 100 Digital Camera with 100 4×6 prints from Walmart 1 hour photo $99
TomTom Ease GPS $59
TomTom XL 335SE GPS $79
Straight Talk Unlimited Card with Samsung 255G phone $45
RCA 7″ Portable TV $59
Philips 7″ Portable DVD Player $49
Sony Reader $99
Sony Speaker Dock Clock Radio for iPod or iPhone $59
Philips Portable Speakers $10
Philips 4GB mp3 Player $29
7″ Digital Photo Frame $29
Kodak C183 Digital Camera $59
Canon EOS Rebel XS 18-551S Deluxe DSLR camera bundle $479
Flip Ultra HD camcorder $99
Sony DCRSX44LM Handycam Flash Camcorder $189
Sony DSCW330 Cyber shot digital camera $119
Nikon L110 Long Zoom Digital Camera $199
HP 15.6″ Laptop $298
HP 17.3″ Dual Core Laptop $398
Belkin Surf Wireless N Router $29
HP Pavilion Slimline Desktop PC Bundle $398
HP Photosmart Plus Wireless Printer $74
HP Deskjet 1050 printer $20
HP Deskjet A10 wireless printer $44
HP Pavilion Desktop PC Tower $498
SanDisk Gray 4GB Flash Drive $8
SanDisk Red 8GB Flash Drive $14
Western Digital Essential 500GB iPortable Hard Drive $39
Playstation 3 160GB with bonus $299
Nintendo DS Lite $89
XBOX 360 4GB video game system with bonus $199
Nintendo Wii limited edition red console value bundle $249
Acer Aspire 17.3″ laptop PC $498
Element 55″ class LCD HDTV $799
Tons of video game titles for all systems at $7, $10 and $29 dollars.
Halo Reach XBOX 360 $35
Band Hero Game Bundle for Wii, XBOX 360 or Playstation 3 $75
Blu-Ray movies for $5 and $10
DVD movies for $1.96, $5 and $9
TV series on DVD $12
Trampoline with safety enclosure $165
Power Wheels Jeep $88
Portable Basketball System $99
SwitchKis Scooter $12
Next 20″ Bike $39
Next 16″ Bike $35
Next 12″ Bike $29
Select Board Games $4
Zhu Zhu Pets $4
Hot Wheels 10-Pack cars $5
Barbie Totally Hair or Mermaid Tail $5
1:24 Radio Controlled New Bright Vehicle $5
Crayola Color Wonder Coloring Set $5
Moon Dough Set or Play-Doh 24 pack of colors $8
Crayola 73 piece ultimate art set $8
Cra-Z art 165 piece creative art studio $8
Select Board Games $10
Littlest Pet Shop Playful Paws Pet Daycare $10
FurReal Friends LuLu's Walkin' Kitties $10
Build-A-Bear Workshop Kit $10
Liv Fashion Doll $10
V-Tech Learn and Dance Interactive Zoo or Spin and Learn Top $10
Little Mommy Sweet as Me Doll $10
Cars 4 pk vehicles, Bakugan Vestroia traps or Iron Man 2 Repulsor power action figure $10
Toy Story 3 12″ Karate Action Buzz Lightyear, Sheriff Woody or Jessie figure $12
St. Eve Sleeping Bag Bud $12
St. Eve Pop-Up Tent $12
Crayola Toy Story 3 Glow Board 3-D or Tangled Magic Light Brush and coloring pad $15
Crayola Crayon Maker $15
Lego 405 piece ultimate building set or Duplo 71 piece large brick box $15
Air Hogs Havoc Heli or Nerf N-Strike Longshot $15
KiddieLand My First Electronic Ride-on $15
Fisher-Price Sit to Stand Giraffe $15
Tonka Off-Road 4X4 hauler $15
VTech Nitro Jr. White Notebook $15
Crayola Color Explosion Glow Dome $17
LeapFrog Leapster 2 Learning System $25
Leapster Games $19
HotWheels Trick Tracks Colossal Stunt World $19
Tech Deck Megaramp with bonus $19
1:30 Radio Controlled New Bright Vehicle $19
Uno Flash $19
Disney Activity Table and 2 Chairs $19
VTech KidiZoom Blue Digital Camera $19
Paper Jamz Guitar with bonus amplifier and strap $29
Disney Deluxe 6 piece playset for dolls $29
Big Buck Hunter 2 Gun Multi Player Edition $29
Boys and Girls Character slippers $3.50
Character Sleep Wear sets $4
Faded Glory Base Camp Fleece Jackets for the family $7
l.e.i. Juniors Hoodie Sweaters $7
Faded Glory Fleece Pullovers for the family $5
Faded Glory Bubble Jackets for boys and girls $8
Boys Wrangler and Girls L.E.I. jeans $7
Juniors L.E.I. jeans and women's riders jeans $8
boys and girls character fleece hoodies or thermal shirts $4
men and ladies graphic thermal shirts $5
Ladies graphic hoodies $7
Men's Wrangler Jeans or Heavy lined shirt jacket $9
Philips Sonicare Essence Electric Toothbrush or Norelco 7363 Electric Shaver $37.97
Men's Hanes Bonus Pack Underwear $7
Shop-Vac Quiet 5-Gallon Vacuum $15
Black and Decker 18 volt drill with 56 piece tool kit $50
Stanley 3 drawer metal tool chest with 124 piece tool set $68
500 thread count sheet set $19.88
Feather and Down Pillow $7
Mainstays MicroFiber Sheet Set $7
YourZone Comforter Set with Bonus $18.88
7 piece bedding set $34.88
Disney Comforter set with bonus $18.88
MainStays 100% cotton bath towel $1.33
Canopy Egyptian Cotton Bath Towel $3.77
2-piece Microplushy pillow and throw set $6
Sunbeam Fleece Heated Throw or Sunbeam Twin-Sized Fleece Heated Blanket $19
Holiday Time 5-Piece Jar Candle Gift Set $5
Bissell Easy Vac $23.88
Bissell 3 in 1 Stick Vac $8.62
Shark Steam Mop $36
Rubbermaid 40 piece Easy-Find Lids food storage set $9
Hamilton Beach 12 cup programmable coffee maker or 5 quart oval slow cooker $9.97
Oster Electric Griddle or flip belgian waffle maker $9.97
Rival appliances $2.97
Mainstays 30 piece kitchenware set $24.87
Corelle 12 piece dinnerware set $12
Paula Deen 10 piece cookware with 6 piece bonus $87.44
Kitchenaid Stand Mixer $149
12 opening collage picture frame or 10 piece frame set $7
18 gallon storage tote $2.80
Cricut Expression Electronic Cutter with bonus $185
Cricut Lite Cartridge $20
Brother Limited Edition Project Runway Sewing Machine $50
8 sheet Cross Cut Shredder $20
Jeep 3 piece luggage set with bonus $29
I may have missed a small item or two and I left out some of the clothing deals, but this is pretty much the whole ad minus the Saturday only sale. What Black Friday Deals are you looking forward to?